They are billions is a steampunk RTS (real-time simulation) game. In the game you build a base, build units to fight against hordes of zombies and generally just try to gather resources to do all of these things. The game is a mix between actively attacking the hordes themselves and preparing for waves of zombies to attack you and your more or less prepared base. The first time I played it I thought it was eerily similar to the Starcraft series, but I quickly discovered it is different too. The strategies I remembered from Starcraft does not work because the AI is quite different, it's just mindless zombies instead of an AI that tries to build a better base and army than you do.
When it comes to building and trying to form strategies, it's even more different. It's not about building the biggest base the fastest, it's all about taking your time by pressing space to pause the game, seeing where the hordes are forming and strategically reinforce those areas. The maps usually have good choke points where you can place walls, gates and towers to prevent the zombies from entering your colony. If they do, you're kinda fucked. For every building they attack and destroy, the zombies will multiply. If they hit your tents/houses, you suddenly go from four zombies to like 50 trying to take over in five seconds, it's crazy. It also keeps you on your toes constantly.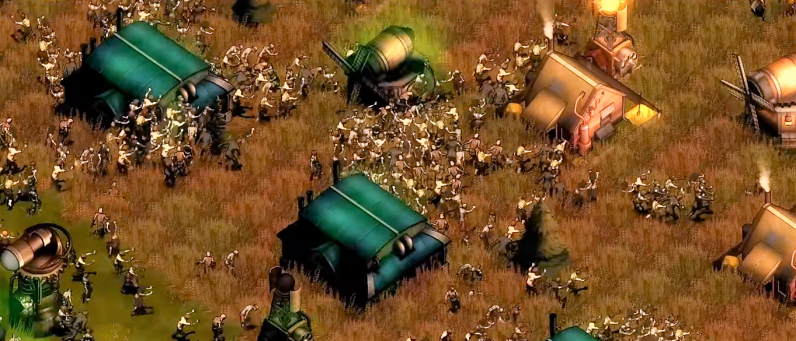 In the beginning, I only made it to day 7-ish because I had no idea what I was doing. Then I saw a strategy saying that you should see it like how the city in attack on titan is built up. You make the inner walls, when it's safe you can expand and build new walls further out, move your rangers and soldiers there instead, and so on and so forth. You can see in the picture below how the layout is in that.
That's how you should be thinking, expand one bit at a time. It helped me so much to think that way instead of trying to just expand, expand, expand without thinking of my defenses! The furthest I have gotten is to day 70-ish but I'm always eager to start over and try again, to see if I have improved at all since last time.
It is a really fun game, although it has a very steep learning curve, it's really easy to get lost in it. Once you get the hang of it, a full game can be just a couple of hours, but every time it will be different so it has very good replay-ability in my opinion. So, have you heard of this game before? Or have you tried it? What did you think of it?
Pin it: