Christmas lights everywhere
I love this time of the year mainly because of the lights. It's so nice to drive around after dark and look at how everyone has decorated their houses or trees or bushes. I really wish having lights outside would be a tradition all year round because it is absolutely stunning to look at. I think maybe I would like it less if I did see it constantly though, I wouldn't have time to really appreciate it for what it is.
Shopping for presents
I love buying presents for people. I may not be the best at finding the right present for everyone but I will try my darndest to do so. If I can't find something super personal I will just go for something people generally like to be on the safe side. It could also be fun to buy something completely different so that they can get the chance to try something new without having to spend a lot of money on it too.
Listening to Christmas songs
It doesn't necessarily have to be traditional Christmas songs either. Lately I have been absolutely loving Sia's Christmas album and this one has been on repeat a lot.
Spending time with family
There's not much of my family left but I do enjoy spending time with those who are still with us. Although the lack of presence from those who have passed away in the most recent years is very noticeable, we still make the most of it and try to keep Christmas a joyous holiday and try not to dwell on the past or think about how it could be.
Food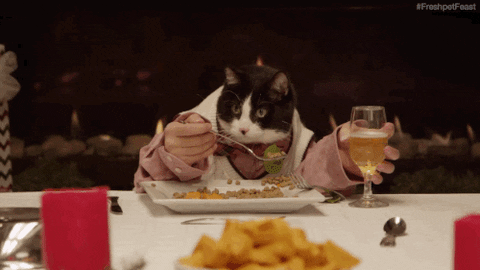 Christmas food and drinks is so good. Once a year you get to stuff yourself so full you'll regret it the next morning and it's wonderful. I always try to not overeat but it happens no matter what I do.
What makes you excited for the holidays?