Rose tinted? What is that?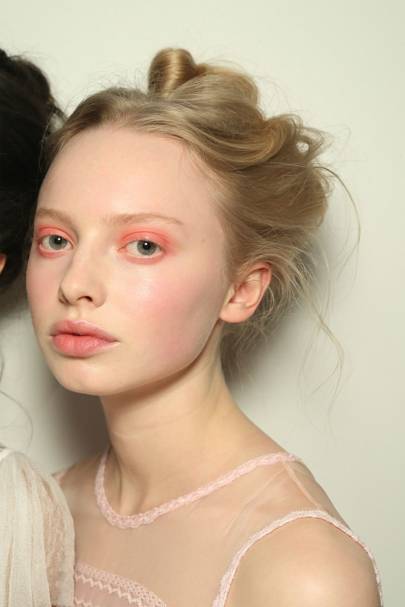 At Bora Aksu, Altuzarra and Simone Rocha, a wash of prettiest pink gave a rose-like flush to cheeks, eyes and lips on the catwalk. Sheer coverage, soft shades and delicate application made for an ethereal beauty which felt utterly modern yet completely wearable at once. Elsewhere pink made its comeback in the form of magenta colour-pop lips at H&M, fuchsia liner at Oscar de la Renta and softly petal-stained mouths at Temperley London. To think pink has never felt more apt.
Rose tinted, to me at least, sounds very good in theory, but it really isn't in practice. It works well for those who are not too fair and who have a light hair color because it just adds onto the 'innocence' of it. For me, however, it doesn't really work. My hair is as black as it could be, my brows are really dark although they're kinda sparse but they are not anywhere close to being blonde. My lips are also naturally very purple, so for them to look rose tinted too I would have had to block out all color with a concealer and then added something pink on top. I used the most pink lipstick I had in the picture below and it still looks purple-ish.
I used a dusty rose shade from a blush palette and used a fluffy brush to add it around my eyes and on my cheeks and it honestly made me look bruised or sunburned. Pink is not my shade at all so it won't really work out no matter what I do. It was a fun look to do though, it looked a bit more intense in real life, my camera didn't really want to pick up on the pink shade so it just looks darker than it really is. Same goes for the lip color, but I guess that's kinda a given.
Would you want to try a look like this? Or rather, could you pull it off? I feel like it really takes a special kind of person to pull off things like this, all of the trends I have tried so far have been kinda drastic or extreme and not really for every day use, only for special occasions. If you want to check out my previous beauty trends posts you can click these links below:
Mermaid eyes | Colored brows | Graphic liner | Ombre lips | fake freckles | lipstick blush
Is there any beauty trends you have been curious about and never really tried? Let me know! I'm always looking for inspiration or new weird things to try out. I always have so much fun when doing posts like this.
Pin it: