Dragon Age: Asunder by David Gaider
[ completed ]
"A mystical killer stalks the halls of the White Spire, the heart of templar power in the mighty Orlesian Empire. To prove his innocence, Rhys reluctantly embarks on a journey into the western wastelands that will not only reveal much more than he bargained for but change the fate of his fellow mages forever."
°
Dragon Age: Asunder is a novel that kind of works as a prequel if you have played the video game Dragon Age: Inquisition. In this novel we follow the story of Rhys, and his friendship with the spirit Cole. You may know Cole from Inquisition as he aids you on your journey (if you allow him to stay with the inquisition of course), and here you get to know him more. I'm really glad that I read this because Cole has one of my favorite personalities. It may seem simple, but there is so much about him that is absolutely complicated.
---
Dragon Age: The Calling by David Gaider
[ completed ]
This is another thrilling prequel to "Dragon Age: Origins", the hit role-playing video game from Bioware! King Maric has allowed the legendary Grey Wardens to return to Fereden. One of their own has aligned himself with their ancient enemy, the monstrous darkspawn. Maric agrees to lead the Grey Wardens, chasing after a deadly secret that threatens to destroy the Grey Wardens and the kingdom.
°
As the description says, this is a prequel to Dragon Age: Origins. In the novel we get the backstory of the commander of the Grey in the game, Duncan. We also get to know more about King Maric and about how Alistair came to be. If you haven't played the game, or isn't interested in the lore behind it, then this will probably not be for you! Same with the book above this one on this list. I really liked it, it was nice to have some of the suspicions I had about the relations between characters confirmed.
---
Stars Above by Marissa Meyer
[ completed ]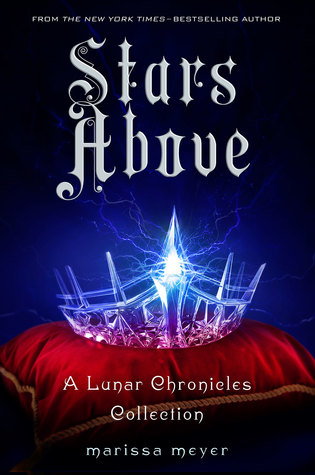 The universe of the Lunar Chronicles holds stories—and secrets—that are wondrous, vicious, and romantic. How did Cinder first arrive in New Beijing? How did the brooding soldier Wolf transform from young man to killer? When did Princess Winter and the palace guard Jacin realize their destinies?
With nine stories—five of which have never before been published—and an exclusive never-before-seen excerpt from Marissa Meyer's upcoming novel, Heartless, about the Queen of Hearts from Alice in Wonderland, Stars Above is essential for fans of the bestselling and beloved Lunar Chronicles.
—
The Little Android: A retelling of Hans Christian Andersen's "The Little Mermaid," set in the world of The Lunar Chronicles.
Glitches: In this prequel to Cinder, we see the results of the plague play out, and the emotional toll it takes on Cinder. Something that may, or may not, be a glitch….
The Queen's Army: In this prequel to Scarlet, we're introduced to the army Queen Levana is building, and one soldier in particular who will do anything to keep from becoming the monster they want him to be.
Carswell's Guide to Being Lucky: Thirteen-year-old Carswell Thorne has big plans involving a Rampion spaceship and a no-return trip out of Los Angeles.
The Keeper: A prequel to the Lunar Chronicles, showing a young Scarlet and how Princess Selene came into the care of Michelle Benoit.
After Sunshine Passes By: In this prequel to Cress, we see how a nine-year-old Cress ended up alone on a satellite, spying on Earth for Luna.
The Princess and the Guard: In this prequel to Winter, we see a game called The Princess
The Mechanic: In this prequel to Cinder, we see Kai and Cinder's first meeting from Kai's perspective.
Something Old, Something New: In this epilogue to Winter, friends gather for the wedding of the century…
°
Stars Above is a collection of short stories about the characters in the book series "The lunar chronicles". I read all four books in July, all thanks to Michala, and I talked about them in my previous "What I read.." post. I really enjoyed having some things cleared up, being able to get into the story again. I felt so empty when the series was over and this helped a little bit!
---
Hannibal by Mirko Jelusich
[ completed ]
°
Sadly, I couldn't find a summary for this book online, nor does it have one on the back cover.. It is understandable though, for this one is from 1934. I found this among the pile of books my grandmother left behind and it seemed really interesting. I love historical novels so this was right up my alley. I couldn't really figure out the book at first though, the Norwegian title for it translates to "The conqueror from Kartago", while it's true title is just "Hannibal". Either way, in this novel we follow the war lord Hannibal through his mission to defeat and conquer Rome, hence the "Conqueror" title. It is written very well, and it leaves out any unnecessary details, just cutting together important snippets. If you're into historical novels, and can get your hands on this, I would recommend giving it a read.
---
The Stars Compel by Michaela Roessner
[ completed ]
Tommaso Arista is the son of two of the most prestigious families of chefs to the household of Cosimo Ruggerio, noble astrologer to the Pope, and a powerful political figure in Florence and Rome. His mother is a Befanini — the hereditary cooks of the de' Medici family, bound to the Dukes of Florence by centuries of both service and blood, family in all but the name.Catherine de' Medici is the only legitimate heir to the de' Medici fortune and titles. She is the Duchessina, but the title, and the incredible wealth, will go to the man who marries her. When her uncle and guardian, Pope Clement, recalls her to Rome to use her and her dowry as a precious pawn in his political maneuverings with the crowns of Europe, Catherine chooses Tommaso as her personal chef and head of her household — he will go with her to serve and protect her, and to be her friend in a dangerous place.
Catherine has plans for her future, plans that do not include being sold as part of the Pope's treaty with France.
°
This is a novel I originally started reading back in February, but I kept feeling like the language was too heavy for me and I stopped reading about half way through. Recently I felt like I should give it a try again and I got hooked. For some reason I find it so much easier to read now and I got to the end in no time. It's kind of a historical novel, but at the same time it is very much fiction. I really enjoy it, it has great descriptions, just enough action to not make it boring and it features the descriptions of the most lovely food. It's definitely making me want to look up recipes so I could try cooking them all on my own.
What have you read this month?