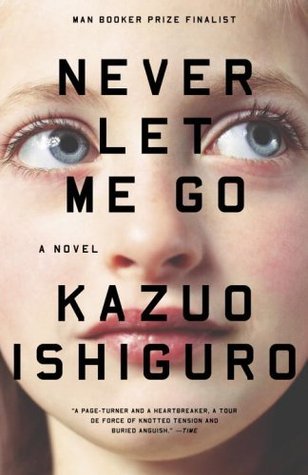 Never Let Me Go is a science fiction novel about three friends who grow up together in England in the late 20th Century. Kathy, Ruth and Tommy attend an exclusive boarding school called Hailsham that has an unusual emphasis on encouraging physical fitness and artistic expression. It is gradually revealed to the reader that the students of Hailsham are actually clones being raised to donate their organs. After completing their schooling, the three friends are sent to live in communal housing with other clones before entering the final stage of their lives when they will become "carers" for other clones who are beginning the process of donating their organs, and then finally begin to donate their own organs until they "complete."
Told from the viewpoint of Kathy, who becomes a carer for her two friends, the manipulative Ruth and the hapless Tommy, the novel is a narrative of how the three young people learn about one another and their place in the outside world. Ruth and Tommy become a couple, even though it is Kathy and Tommy who seem to have the more natural attraction. Years later, when Ruth is a donor and Kathy her carer, Ruth confesses that she had intentionally kept Kathy and Tommy apart out of her own jealousy and selfishness and she asks Kathy for her forgiveness. She encourages Tommy and Kathy to get together and encourages them to seek out Madame, one of the mysterious people connected to Hailsham, to ask her about the rumors that clones who can prove they are in love can postpone their donations.
As a child, Kathy – now thirty-one years old – lived at Hailsham, a private school in the scenic English countryside where the children were sheltered from the outside world, brought up to believe that they were special and that their well-being was crucial not only for themselves but for the society they would eventually enter. Kathy had long ago put this idyllic past behind her, but when two of her Hailsham friends come back into her life, she stops resisting the pull of memory.

And so, as her friendship with Ruth is rekindled, and as the feelings that long ago fueled her adolescent crush on Tommy begin to deepen into love, Kathy recalls their years at Hailsham. She describes happy scenes of boys and girls growing up together, unperturbed–even comforted–by their isolation. But she describes other scenes as well: of discord and misunderstanding that hint at a dark secret behind Hailsham's nurturing facade. With the dawning clarity of hindsight, the three friends are compelled to face the truth about their childhood–and about their lives now.

A tale of deceptive simplicity, Never Let Me Go slowly reveals an extraordinary emotional depth and resonance–and takes its place among Kazuo Ishiguro's finest work.
Φ
I don't want to spoil too much of the story but that is the gist of it, if you don't want to actually read it, there is a movie made about it too, I'll include the trailer for it below. The movie features actors like Carey Mulligan, Keira Knightley and Andrew Garfield.
The novel captured my heart and i could not put it down while i was reading it, feeling a need to constantly continue the story. It made me laugh, it made me cry and it was a great read from start to finish.
Pin it: